Light of Hope
Time: 7 November 2019
Venue: Heldenplatz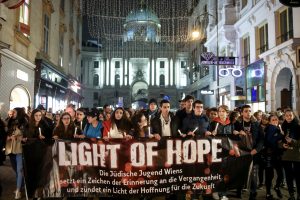 "Light of Hope" is an initiative of the Jewish Community in Vienna in fight against antisemitism and racism, engaging thousands of young people.
On this occacion I will be directing a sight specific interactive street theatre performance on different locations in the historical center of Vienna.
Die IKG (Israelitische Kultusgemeinde) veranstaltet am Heldenplatz den Jugendmarsch "Light of Hope", der die TeilnehmerInnen durch die Innenstadt führt. Zu dieser Gelegenheit werde ich entlang der Route eine Serie von interaktiven Straßentheater Performances inszenieren.