Directing and Creating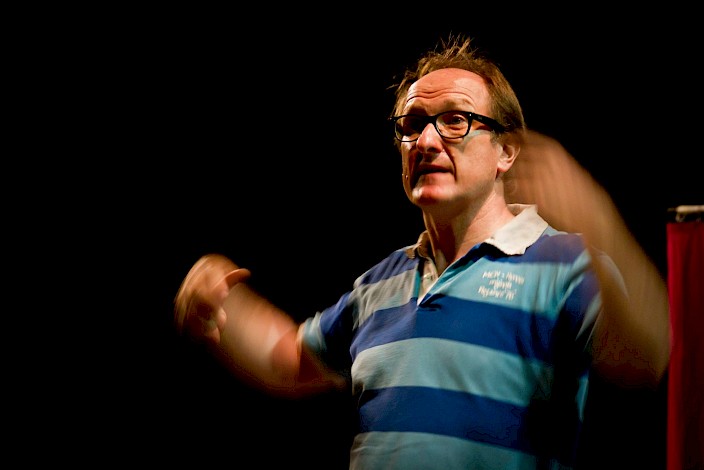 Directing cannot be taught. That's why this teaching is so exciting. Every young director has to find his personal style, his own way to cope with different kinds of people, to motivate them and to stimulate them occasionally to do things, they would have never thought to be capable of. All we can do, is offering craft, experience and tell them of our mistakes.
Creation comprises play writing, location scouting, fund rising, public relations and running the shows. It encourages young artists to find their own place in the theatre world and to realize their ideas.
Regieführen kann man nicht beibringen. Gerade das macht das Regie Unterrichten so spannend. Jede(r) junge Regisseur(in) muß seinen/ihren eigenen Stil entwickeln, die Art, mit den unterschiedlichsten Menschen umzugehen und sie manchmal zu Höchstleitungen zu motivieren, die sie sich womöglich selbst nie zugetraut hätten. Alles, was wir tun können, ist, ihnen Handwerk beizubringen, unsere Erfahrungen zu teilen und ihnen von unseren Fehlern zu erzählen.
Produktion umfasst Szenisches Schreiben, Spielort Finden, Geld Aufstellen, Werbung und die Produktionsabwicklung. Es soll junge KünstlerInnen ermutigen, ihren eigenen Platz in der Theaterszene zu finden und ihre Ideen umzusetzen.